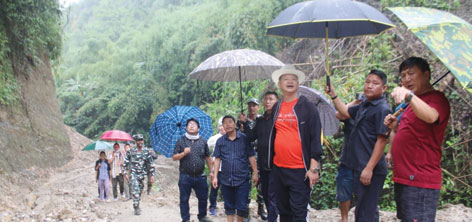 ITANAGAR, 14 May: Itanagar Municipal Corporation (IMC) Mayor Tame Phassang on Saturday inspected the under-construction solid waste management plant in Karsingsa and took stock of the progress of work on the plant.
Stating that one of the main challenges faced by the IMC is waste management and disposal, Phassang asked the engineers to complete the plant within the stipulated time.
"Our efforts to make the city clean will remain incomplete if there is no proper solid waste management plant," the mayor said.
Earlier in the morning, Phassang inaugurated                  the CC pavement in Niya Colony in Banderdewa.
Responding to a representation submitted by the residents, the mayor advised them to place their grievances before the local corporator, but assured to look into their grievances.
Phassang was accompanied by Town Planning Director Likha Suraj, IMC EAC Datum Gadi, corporators, and engineers.