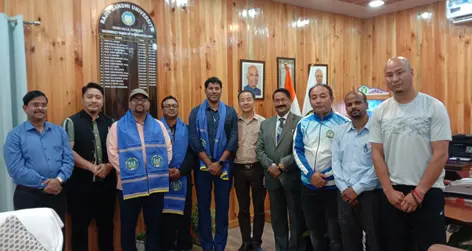 RONO HILLS, 18 May: Three sports experts from PRSU, Prayagraj, MMD College, Tripura and Banaras Hindu University (BHU), Varanasi are currently on a visit to Rajiv Gandhi University (RGU) to assess the practical knowledge of the students pursuing B PEd and PGDYT courses in the university.
Apart from doing the assessment of the students, Dr. Bhaskar Shukla, an expert in football and yoga from PRSU, Dr. Mukesh Mitra, an expert in gymnastics from MMD College and Dr. Krishnakant, a cricket expert from the BHU-delivered lectures on yoga and its importance, gymnastics and its future scope and career in cricketing world, respectively.
They also met RGU vice-chancellor prof. Saket Kushwaha and discussed various issues related to sports and physical education.
Prof. Kushwaha said that sports have always been an integral part of the university's curriculum.
Highlighting the RGU's commitment towards nation building through education and sports initiatives and how the university had always supported sports, sports events and encouraged sporting talents, he said, "Such commitment is reflected in the start of many sports science disciplines in the university in the last couple of years, including departments like Sports Physiology, Sports Psychology, Sports Biomechanics, Strength Training and Conditioning and the department of Physical education offering PhD, PG Diploma and UG programmes."
While making mention of starting a cricket academy he said that the university will soon launch a talent hunt.
The university's joint registrar Dr. David Pertin exuded confidence that the students of the university will achieve more success in the future. He cited the example of the university's recent achievement in the second Khelo India University Games at Bangalore.
"Though the departments under the faculty of Physical Education and Sports Sciences in RGU are recent, the faculty's well designed courses have attracted students who wish to make a career in sports and related fields. This has been made possible due to the untiring efforts of the university's highly committed, qualified and experienced faculty," Dr. Pertin added.
RGU's internal quality assurance cell director prof. RC Parida said that the course curriculum of sports departments have been devised keeping in mind the ever-changing needs of the society so that students are absorbed in various sectors, ranging from sports coaching, teaching, research, management, media, etc.
The university's finance officer prof. Otem Padung and physical education and sport sciences department head Dr. Sambhu Prasad also spoke.
The visitors shared their experiences and opined that the RGU has the potential of becoming a significant pool of talented players, researchers and teachers in the coming days.
Among others, faculty members of the department of physical education and sport sciences Dr. Anil Mili and Sangey Tsering were present in the round table discussion.