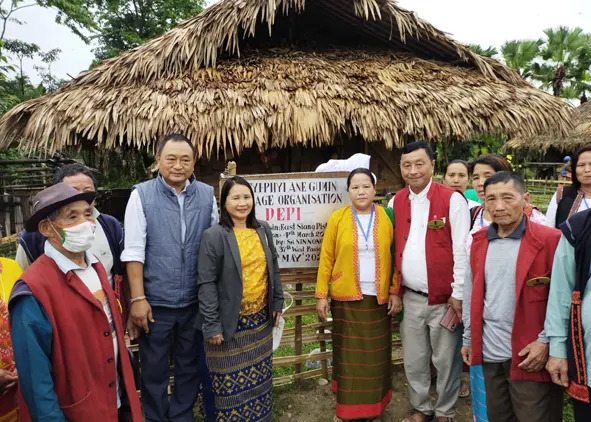 Correspondent
RUKSIN, 20 May: Pasighat West MLA Ninong Ering has urged the people of Assam to cooperate in finding tangible solutions to the longstanding Assam-Arunachal boundary disputes.
Ering, who was addressing a public meeting at Depi village in East Siang district on Friday, said that "Assam Chief Minister Himanta Biswa Sarma is taking up praiseworthy steps for solving the vexed boundary problem."
He said that the people of Arunachal Pradesh residing along the boundary areas are maintaining cordial relations with the people of Assam and are willing to settle the boundary problem in an amicable way.
Ering said that it would be preferable to settle the boundary disputes after consultations with the boundary dwellers.
The MLA, who had earlier served as the circle officer of Nari in the present Lower Siang district, lamented that a large portion of the Gali reserve forest falling in Arunachal's territory has been occupied by people of Assam.
He urged the Arunachal and the Assam governments to "settle the interstate boundary dispute by maintaining the present status of contiguity without disturbing the habitat of the boundary dwellers."
Further, referring to the ongoing demand for de-reservation of the Gutin reserve forest under the Pasighat territorial forest division, Ering said that "their demand is genuine" and suggested to the locals to "move the authority on the right procedure."
Earlier, the MLA, accompanied by ZPMs Aruni Jamoh and Anung Gammeng, inaugurated the office of the village organisation (VO), named Leyi-Piyi Ane Gumin, of the Depi cluster.
He advised the women SHG members to adopt income generation activities for enhancing their household economy.
The VO comprises seven women groups of Depi village who are dedicated to weaving, wage-earning and vegetable farming activities.
Speaking on the occasion, Leyi Banggo president Tai Lomi reiterated the locals' demand to upgrade the Depi-Moli medical sub-centre to a PHC, and appealed to the MLA to pursue the matter with the state government.
The cluster coordinator of the Ruksin block ASRLM, along with ZPMs and gaon burahs were also present on the occasion.