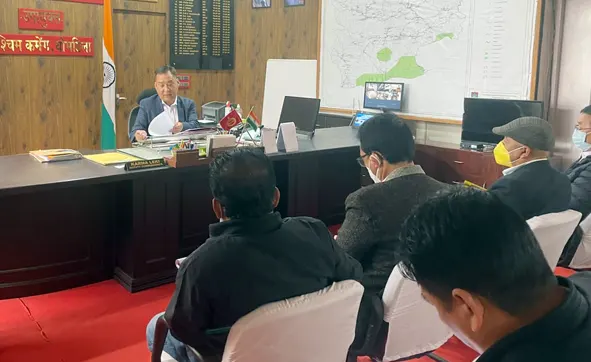 BOMDILA, 20 May: West Kameng DC Karma Leki asked the food & civil supplies and the health departments to maintain buffer stocks of rice and medicines as part of monsoon preparedness.
He also asked all the HoDs to "furnish the resources available in their respective departments through the resource inventory report."
On Friday, the DC reviewed the district's monsoon preparedness during a coordination meeting with administrative officers and HoDs at his office here.
Leki also advised the district disaster management officer (DDMO) to create a WhatsApp group "for immediate reporting of incidents."
DDMO Mindu Yangzom informed that emergency operating centres have been activated at the district and the subdivision levels with the help of the State Disaster Management Force's Regional Response Centre.
Anyone can call the 24/7 toll-free numbers 1077 and 09485236626 in case of emergencies, she said.
The West Siang District Disaster Management Authority also held a meeting in Aalo on Friday to discuss the district's preparedness for monsoon calamities.
Chairing the meeting, DC Penga Tato asked the line departments to be fully ready and well-equipped for any eventuality during the monsoon season. He also urged the departments concerned to be prepared to tackle the cutting off of surface communication in the district during monsoon.
Tato requested the TCC Company to "keep all the men and machineries in vulnerable land sliding zones," adding that "the department of food and civil supply must be maintain the buffer stock of rice and other ration items."
Kamba ADC Rujjum Raksap and West Siang DDMO Nima Dorjee also spoke. (DIPROs)