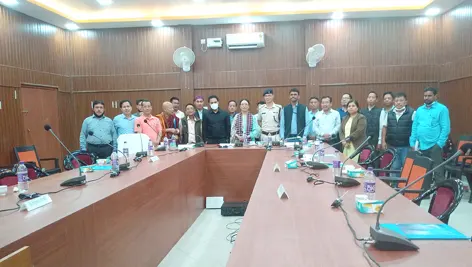 [ Pisi Zauing ]
MIAO, 21 May: National Commission for Minorities (NCM) member Rinchen Lhamo stressed the need for early creation of a state minority commission in Arunachal, "so that the beneficiaries can avail the benefits of the schemes meant for the minorities, and also to address other issues."
Stating that several states have already created minority commissions, she urged the Arunachal Pradesh government to initiate steps for early creation of the commission.
"Timely creation of state minority commission can play a significant role in addressing issues facing the minorities. Owing to lack of awareness, the benefits often fail to reach the minority communities," she said, addressing a gathering here in Changlang district on Saturday.
Lhamo was on a visit to Namsai and Changlang districts.
In a meeting at the Sadbhavna Hall here, she held detailed discussions with the religious heads of the minorities of Changlang district on social, educational and economic issues. She also garnered information about the status of ongoing state and centrally-sponsored schemes from the deputy commissioner and the heads of various departments.
Lhamo expressed hope that her visit to the two districts would prove to be "an eye-opener for minority communities."
"I wish to see the minorities of the two districts start availing direct benefits from the government, so that other districts too will avail the same," Lhamo said, and assured to visit other districts in the days to come.
She reiterated the Centre's commitment to "take the religious minorities of the country to greater heights through various schemes."
Informing about the pre-matric and post-matric scholarships, she appealed to the students of minority communities to avail the scholarships to pursue higher studies, informing that the procedures to avail scholarships have been made easier to avoid any official hiccups.
Lhamo also advised the beneficiaries to apply for the benefits on time to avoid rejection of their applications.
She informed about the Naya Savera scheme, through which Rs 1 lakh can be availed to meet coaching fees. She also informed about the Naye Udaan scheme for direct financial assistance from the government for higher studies.
Lhamo further informed about the Sikho Aur Kamao scheme, through which skill development programmes are launched free of cost, "so that the unemployed youths can manifest their skills and become self-employed."
She appealed to the students of minority communities to avail the benefits of several ongoing loan schemes with low interest rates.