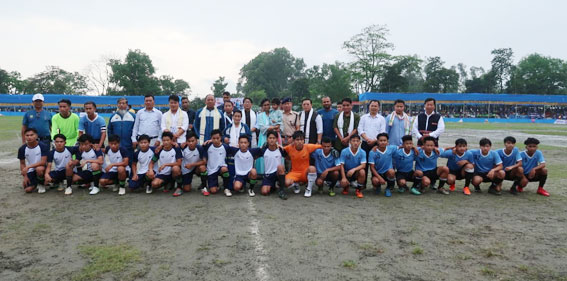 [Karyir Riba]
ROING, 26 May: The 5th edition of the state level Hangpan Dada Memorial Trophy (HDMT) football and volleyball tournaments was kicked off by Sports Minister Mama Natung at the Kera aa Jubilee Ground here in Lower Dibang Valley (LDV) district on Thursday.
Twenty-six teams representing each district of the state are participating in both the football and the volleyball tournaments for U-16 boys and girls. The tournaments are being organised by the sports department, in association with the LDV district administration.
After paying tribute to late Hangpan Dada and hoisting the flag of the tournament, Natung interacted with the young participants.
"Discipline is a must, both physically and mentally. We Arunachalis are naturally bestowed to be good sportspersons. We only need to identify our talent and work on it.
Refrain from using drugs. It only harms everyone around you and doesn't do any good to anyone," Natung told them.
He lauded the Olympic associations of the state and said, "Today, players from Arunachal are bringing home medals in many different sports. Our government is working towards making Arunachal the sports powerhouse of India. Work is already on to identify certain sports in order to train our players to get them ready to compete and win in the next Olympics," he said, adding that "it is only through games and sports that we can keep the youths from every corner of the state connected with each other."
He also briefed the participants about the ongoing Airgun Surrender Abhiyan – an initiative of Natung himself – and urged them to refrain from harming and consuming wildlife.
Sports Secretary Anirudh Singh spoke about "the glory of Hangpan Dada," and advised the young players to "take inspiration from the braveheart."
LDV DC Soumya Saurabh said, "We are really happy and thankful to be given this opportunity. Sports should not be treated merely as a game as it not only plays an important role in the overall development of a person but can also be taken up as a career option," she said.
Local MLA Mutchu Mithi praised the state government for the present scenario of sports in the state. "Arunachal Pradesh was always known for its natural scenic beauty and its humble people, but today, the state is also emerging in the field of games and sports. The rapid development of the sports department of our state is commendable," he said.
Alluding to the LDV administration's slogan 'Drugs chhoro, khel se joro', he appealed to parents to "be aware and keep their children away from drugs.
"They are our future and we need them to be at their best," he said.
Dambuk MLA Gum Tayeng said, "Including games and sports along with your studies is important. Young boys and girls should show active participation. Parents and elders should support and encourage them by organising such tournaments. Grounds and clubs should be established everywhere."
Souvenirs made by the children of the Child Care Institute here were presented to the guests during the programme. Colourful cultural performances by children added to the ambience of the grand opening ceremony.
Among others, Sports Authority of Arunachal Vice Chairman Sanjiv Tana Tara, Arunachal Volleyball Association president Nera Techi, and All India Football Federation HOR Tana Sunny were also present at the event.
The finals of the tournaments will be played on 4 June.