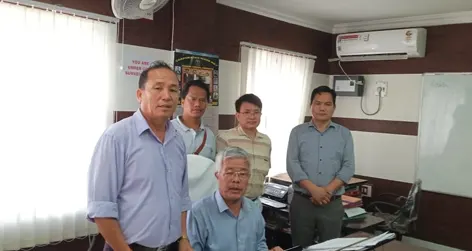 ITANAGAR, 27 May: The alumni association of the government higher secondary school in Upper Subansiri HQ Daporijo, led by its chairman Dosh Dasi, met Tourism Minister Nakap Nalo, the education commissioner, and the secondary education director separately over the last two days, and appealed to them to ensure early posting of six postgraduate trained teachers (PGT) to the school.
The team met Nalo on Thursday and highlighted the problem being faced by the students of the school due to the lack of PGTs.
Dasi informed the minister that six PGTs were transferred from the school during 2019-2021 without any relievers, which he said has adversely affected the studies of the students.
The association also appealed for posting of a librarian and a music teacher.
It said that Nalo, who is an alumnus of the school, has written to Education Minister Taba Tedir, requesting him to consider posting the required teachers, including a librarian and a music teacher, to the school.
ZPM Tanam Nacho, an alumnus of the school, also requested Nalo to "take initiative for early posting of the subject teachers."
Later, Dasi met Education Commissioner Padmini Singla at her office here, and submitted a representation, requesting her to post subject teachers against the transferred PGTs.
The association said that the education commissioner assured to post the teachers as soon as possible.
"She said that the state government will create sufficient teachers' posts, particularly PGTs, and that the interview for recruitment of the teachers will be completed in August," the alumni association said.
Earlier, Dasi informed the education commissioner that three guest teachers were hired for five months, and that their salaries were sponsored by DC Mika Nyori, MLA Tania Soki, Tagin Cultural Society president Largi Rigia, DDSE Tapi Jeram and former DDSE Orkam Garam.
He further informed Singla that six CCTV cameras for the newly built classrooms of the school were contributed by APSTS Senior Station Superintendent Tuter Dulom, who is also a former student of the school.
On Friday, Dasi, accompanied by Jitu Rigia and Rajiv Lomdak, both Samagra Shiksha state project coordinators, met Secondary Education Director Marken Kadu and submitted a memorandum, requesting him for immediate posting of teachers.
According to the association, the director assured to post teachers soon after completion of the recruitment process of the PGTs.
Kadu also said that he would visit the schools in Upper Subansiri district during the last part of this year.