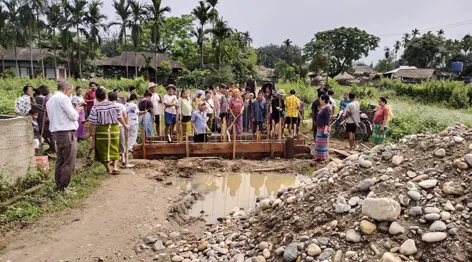 [ Prafulla Kaman ]
RUKSIN, 27 May: The PRI leaders here in East Siang district said that the newly introduced National Mobile Monitoring Software (NMMS) application is not functioning properly in their area due to some technical glitch, which, they said, is causing problem in proper monitoring of the ongoing construction activities under the MGNREGA.
The NMMS app has been launched to ensure proper monitoring of MGNREGA schemes and taking real-time attendance of workers at worksites, as well as their geo-tagged photographs. The application thus enables processing of payment in a faster manner.
However, the workers here are worried about their daily wages as the officials of the rural development (RD) department are not able
to take real-time attendance of the workers due to malfunctioning of the mobile application, Ruksin ZPM Aruni Jamoh and the GPCs of Ngorlung-Ralung village said.
"More than 300 job card holders and wage earners of Ngorlung-Ralung village have been working in seven separate schemes under the MGNREGA since 20 May, but the rural development officials are not being unable to process online entries due to technical fault with the NMMS app," they said.
The GPCs of Ngorlung-Ralung alleged that the RD office has engaged them to assist in monitoring the ongoing MGNREGA schemes in their respective villages, but without providing the required assets and facilities.
"We are facing problem due to lack of sophisticated mobile handsets along with the issues with the NMMS app, as the daily wage earners are mounting tremendous pressure on us for their wages," they said.
The PRI leaders urged local MLA Ninong Ering to take up the issue with the state government and move the ministry concerned for immediate rectification.
RE Junior Engineer Bhupendra Singh said that the NMMS application is not functioning properly, thereby causing inconvenience in processing online entry of the ongoing works.
"We have informed the higher authorities of the rural development department about the glitch with the app. But no formal communication has so far been made in this regard," he said.
Officials of the RD department informed that Rs 4.36 crores has been sanctioned to implement 97 schemes in Ruksin block under the MGNREGA during 2021-22, and that seven schemes worth Rs 27.56 lakhs are being implemented in Ngorlung-Ralung village.