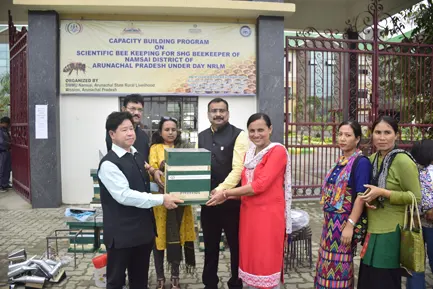 NAMSAI, 29 May: A three-week training programme on scientific beekeeping for self-help groups (SHG) and rural women of Namsai district concluded at the campus of the Arunachal University of Studies (AUS) here on Sunday.
Organised by the ArSRLM's Namsai BMMU under the NRLM, in collaboration with the AUS, the programme saw the participation of 45 members of different SHGs of the district. They were imparted training in management of beehives and their various products, and were apprised of beekeeping and products such as honey, propolis, royal jelly, wax, and apitherapy.
AUS president Dr Ashwini Lochan distributed bee boxes to the SHGs on the occasion, and spoke about "rubber honey, which finds application as medicine and holds high market value.
"Pure honey has demand all over India and production of it in large quantities is always in need," Dr Lochan said, and motivated the SHGs to train members of their families and communities in beekeeping, "so everyone can get benefit from it."
He advised the SHGs to establish a cooperative unit in Namsai, "which would help them secure better funding for scale-ups from the Centre and the state government."
AUS VC Dr B Mohan Kumar highlighted the nutritious and medicinal value of honey, along with its importance in improving crop production. He encouraged the SHGs to "continue practicing and learning the beekeeping trade and take it forward to become future entrepreneurs."
Programme director Dr Rani Jha also spoke.