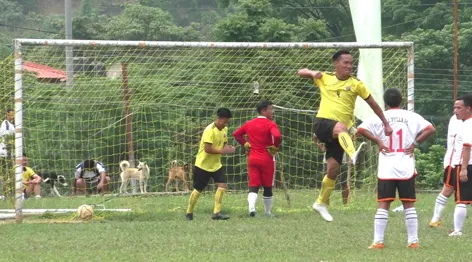 ITANAGAR, 11 Jun: Manchester United (MU) and Hello FC (HFC) won their respective matches in the open category on day five of the Capital Complex Dree Festival (CCDFC)-2022 Football Tournament on Saturday.
While MU beat TY FC by 3-2 goals in the first match, HFC defeated Iijang Nuri 3-0 in the second match.
Buru Pali of MU and Hage Takang of HFC were declared 'hero' of the first and the second match, respectively.
In the veteran category, Paatii B FC won by 2-0 against Ball Tulla X team. The 'hero of the match' title went to Hibu Nobin.
In the fourth and last match of the day (veteran category), Ball Tulla Z FC was beaten by a margin of 5-1 goals by Hogya FC.
Bamin Tadu, who scored all five goals for Hogya FC, won the 'hero of the match' title.
The solitary goal for Ball Tulla Z was scored by Tadu Kani, according to a CCDFC release.