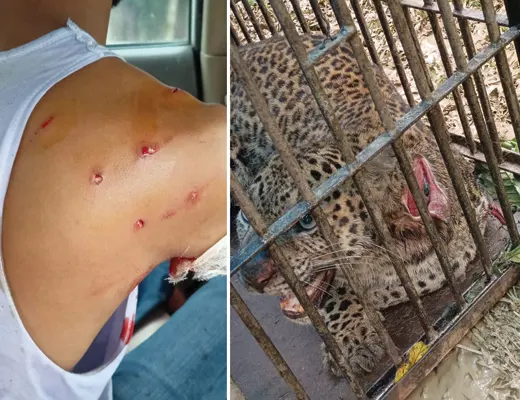 [ Bengia Ajum ]
BORDUMSA, 24 Jun: A male leopard that was creating mayhem in Kherem Kochari, Khowji Pattar and Bisa villages in Bordumsa subdivision of Changlang district was captured on Wednesday evening after a six-day chase.
The leopard, which was first sighted by the villagers on the 17th of this month, killed 11 livestock and caused serious injuries to five people in the village, before being caught.
The authorities of the Namdapha National Park, along with forest officials under the Jairampur DFO, aided by the district administration, managed to capture the leopard after much difficulty.
In the process, however, the leopard sustained injuries on its neck and left hand.
Bordumsa Circle Officer Iken Lendo informed that the leopard has been handed over to the authorities of the Namdapha National Park, to be released in the wild.
 The gaon burah of Kherem Kochari village, Tarun Sonowal, told this daily that leopards were roaming in the area for the last one month.
"We had been receiving reports of livestock going missing. But no one had properly sighted the leopard and therefore everyone was clueless. But on 17th June, the leopard was identified," said the GB. He also shared that five tea garden workers were attacked by the leopard, causing them injuries.
The leopard was caught in a cage brought from the Namdapha National Park.
While the villagers have taken a sigh of relief after the capture of the leopard, Sonowal expressed apprehension that such an incident might take place again.
"During this time of the year, leopards from nearby forest reserves of Assam tend to enter our area to look for food. In the past also we have witnessed leopards entering our area and there are possibilities that it might happen in future too," he said.
He expressed appreciation for the prompt response of the Changlang district administration and the forest officials in coming to the rescue of the villagers.