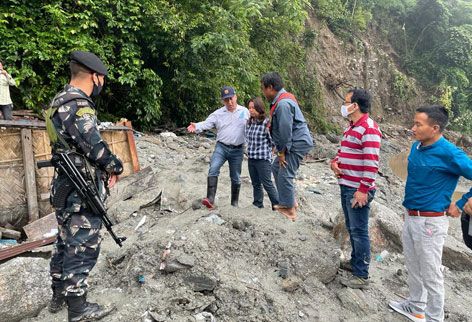 KALAKTANG, 26 Jun: West Kameng DC Karma Leki, along with the 14 BRTF commandant, the Kalaktang ADC, and HoDs on Sunday visited the flood- and landslide-affected areas here and took stock of the extensive damages caused due to the heavy rainfall over the past few weeks.
At Angkaling, where several houses were damaged by a flashflood, the DC distributed relief items to the affected villagers. The team also visited the 700 chainage area, where a massive search operation by the NDRF is underway
to locate three persons who went missing in the flashflood on 18 June.
The OKSRT road, which connects Balemu EAC HQ with the rest of the district, has been extensively damaged at numerous locations due to landslides and flashfloods.
Restoration of the OKSRT road is in progress. However, the road is still blocked at several points and stretches due to washing off of the road formation where fresh earth-cutting was done by the BRO. (DIPRO)