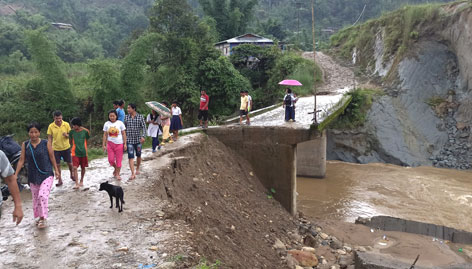 [ Manoj Singh ]
CHIMPU, 27 Jun: The residents of Donyi-Sho and Sangrik-Hapa colonies here have sought the attention of the capital administration, the Itanagar Municipal Corporation, the local MLA and the state government towards the hardships faced by the residents due to the collapse of a portion of a bridge and the pathetic condition of the roads in the colonies.
The residents alleged that no one from the administration and the department concerned visited the areas to assess the condition of the colonies' roads. They stated that a section of the bridge over the Dokioso river has been completely damaged and needs immediate renovation.
Sangrik Hapa Forest Corporation Colony Welfare Committee (SHFCCWC) president Tagru Taru informed that the bridge was constructed by the locals voluntarily and, over the course of time, the wing walls on both sides of the bridge collapsed twice.
"Earlier, the population of the area was not much, but at present it is nearing 500 in Donyi-Sho, with around 85 houses, and another 800 in Sangrik-Hapa Colony, and almost everyone is facing lots of problems due to the collapse of the bridge and the bad roads. Children and older people are the worst sufferers. People are compelled to walk through a narrow portion of the land, carrying all their household materials, including ration items and gas cylinders.
"Also, schoolchildren have to take the same route to catch their school buses, which is around 1.5 km away," the SHFCCWC president said.
He pointed out that the collapsed portion of the bridge is vulnerable and may lead to accidents if not repaired soon.
Social worker Gungli Tayang said, "The CC pavement work has been done up to the directorate of indigenous affairs from the four-lane road near APBn Chimpu main gate, and from there it is hardly 2 kms. If the remaining portion of the road is converted into CC pavement, it will mitigate a lot of problems of the residents."
SHFCCWC adviser Bagang Tah also appealed to the state government to look into the grievance of the residents and ensure early repair of the bridge and the roads.