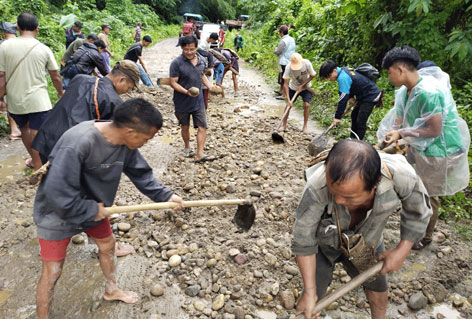 [ Prafulla Kaman ]
RUKSIN, 27 Jun: Around 400 people of Debing, Poblung, Detak, Depi and Depi-Moli villages under the Leyi Banggo in East Siang district on Monday repaired 25 kms of the Ruksin-Nari PMGSY road on their own.
The villagers, including youths, women SHG members and GBs, filled up the potholes and the broken portions of the road with sand and gravel, from the Rayang river bridge point to Depi village.
The tractor owners of the locality
provided 30 vehicles for lifting sand and gravel from the riverbed to fill the potholes.
Leyi Banggo president Tai Lomi said that the 35-km-long PMGSY road, connecting Nari headquarters with Ruksin town, has been left unrepaired for the last seven years, causing immense problems to the commuters.
"They took up the repair work on self-help basis as the government did not sanction fund for it," he said.
Leyi Banggo general secretary Tarin Taying appealed to the residents of other villages along the PMGSY road to repair the road without waiting for the government to help.
Meanwhile, following a request from the villagers, the Arunachal Pradesh State Transport Services has decided to run a daily passenger bus service between Pasighat and Depi village. The bus service is expected to start on 1 July.