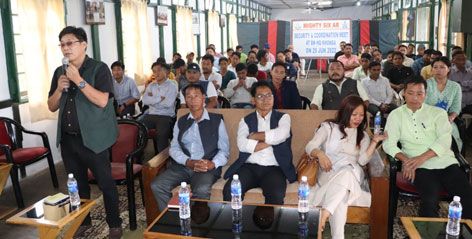 KHONSA, Jun 29: Khonsa Battalion of Assam Rifles (AR) reiterated their appeal to the people to provide timely information regarding movement of insurgents and their activities so that the security forces can effectively deal with them to ensure peace and security of the people.
Addressing a coordination meeting at the battalion's headquarters here in Tirap district on Wednesday, Khonsa Battalian of
AR commandant Col. Amit Kumar Das said that sharing of timely information by the village appointments regarding movement of the insurgents led to neutralization and apprehension of a number of hardcore insurgents in the last two years.
The participants were made to understand that sharing timely information about movement of insurgents is their responsibility, which will go a long way in checking unlawful activities, like extortion, kidnapping by insurgent groups.
During the meeting, the villagers were also made aware of various civic action programmes of the security forces and the centre's recently launched Agnipath scheme for recruitment in the armed forces.
Representatives of Tirap police, Tirap district administration, including circle officer Nekong Perme, Gaon Burahs, rajas, representative of various community based organizations, students' unions, TCLPF and Khonsa Bazar committee attended the meeting. (DIPRO)