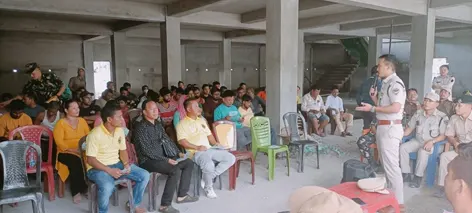 ITANAGAR, 4 Jul: The capital police conducted community outreach programmes at the Gohpur trijunction market, the Chimpu market, Akashdeep, the Gandhi market and Niti Vihar on Monday with the aim of "developing good understanding between the community and shopkeepers," the capital police informed in a release.
IMC Corporators Lokam Anand, Yukar Yaro and Bamang Taji also attended the programmes held in different locations. Over 500 people took part in the programmes.
The participants were briefed on topics like maintenance of law and order in the markets, Dial 112, support in control of antisocial activities like extortion, forcible donation, drugs, etc. They were also provided with the contact numbers of the capital police for any information.
The initiative was conceptualised by ICR SP Jimmy Chiram.
"Similar outreach programmes are planned in other areas and will be conducted by the respective OCs of the capital police," the release stated.