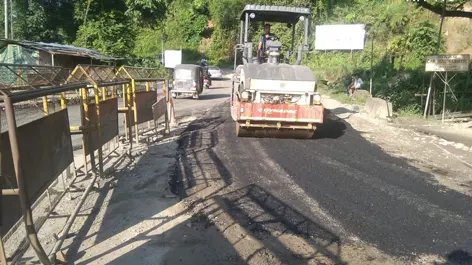 Staff Reporter
ITANAGAR 7 Jul: Renovation work on the stretch of National Highway (NH) 415 from the Jollang trijunction to Nirjuli under Package B started from Wednesday night.
"This stretch of the road will be repaired by filling up the potholes within 10 days, provided the weather condition is good," informed TK Engineering project manager Pranjol Hatimota.
He informed that the road up to the Yupia trijunction has been repaired and carpeted "and tonight the grading work will be done from the Yupia trijunction and, accordingly, the carpeting work will be started by Friday."
The official informed that the repair work will involve expenditure of Rs 1.7 crore.
The construction work under Package B (Papu Nallah to Nirjuli) had started in December last year and is expected to be completed by 2024.
Officials of the construction agency said that "there shouldn't be any repair work; rather, proper road should be built up."
ICR DC Talo Potom informed that the road construction is underway, that a few culverts are being constructed in the Lekhi area, and that the broadening of the road has started.
The DC informed that "the current road work in Yupia trijunction is just a repair work due to public outcry. The main work of the four-lane has been started, wherein the two-lane road which is already completed will be free for traffic movement, so that the remaining two-lane in the other stretch can be completed."