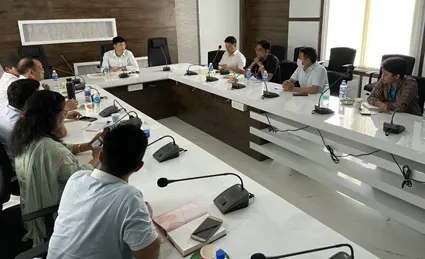 KHONSA, 4 Aug: Tirap DC Taro Mize has asked all the line departments to motivate the villagers of Lazu area and Tirap as a whole to use boiled water for drinking and not to drink water directly from pipes and streams.
He said this while addressing a district level coordination meeting to review 'the health status of Pongkong and Longliang villages', which recently witnessed a fatal diarrhoea outbreak.
The DC appealed to "all religious denominations, PRIs and school teachers" to "create awareness against belief in evil spirits and religious rituals and encourage people to avail early medical treatment from nearby health centres and hospitals."
He urged officials of the health, the WCD and the PHE&WS departments to "stay at Pongkong with adequate staff, including ASHAs and anganwadi workers, for observation of the situation."
State nodal officer for child health, Dr T Natung informed that he, along with UNICEF state consultant Dr Manash Mahan and surveillance coordinator Minakshi Hazarika, visited Pongkong village and the Lazu PHC and found sufficient medicines available at the PHC.
Lazu EAC (i/c) DK Thungdok informed that a temporary health camp with sufficient staff has been set up in the Pongkong community hall, and that he is in touch with the chiefs, GBs, panchayat leaders, ASHAs, anganwadi workers and religious leaders to ensure timely treatment of patients, if any.
Lazu ZPM Rangmo Ranto highlighted "the need to maintain proper sitting arrangement in the classrooms of private educational institutions of Lazu and nearby villages," adding that "large numbers of students accommodated in a small classroom can result in spread of communicable diseases like diarrhoea and scabies among the students."
DMO (i/c) Dr O Taggu informed that "there have been no diarrhoea cases in both Pongkong and Longliang villages since 30 July." He sought cooperation from CBOs, PRI leaders and religious leaders of Pongkong and nearby villages "to motivate the villagers not to believe in evil spirits but to consult health workers like ASHAs, AWWs and nearby health centres for health check-ups." (DIPRO)