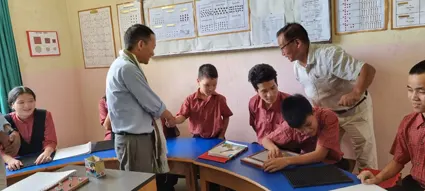 CHIMPU, 4 Aug: Itanagar Capital Region (ICR) DC Talo Potom visited the Donyi Polo Mission School for the Hearing and Visually Impaired here on Thursday.
In his address, the DC lauded the school authority for its dedication in running the school.
"We all face challenges which discourage us from moving forward in life, but today I feel my challenges are very less compared to yours, as the teachers and staff here are putting their best efforts to shape the life of the students and to train them to the best of their abilities," the DC said.
He encouraged the schoolchildren and commended their talent in curricular activities.
On being informed by principal H Sharma about the land encroachment issue, Potom assured that strict action would be taken against encroachers and proper demarcation would be carried out.
Accompanied by EACs Takam Nicholas and Dana Unna, Potom visited the school's hostel area, classrooms, kitchen and student training centre. He also inspected the intervention unit for children with special needs, and the water paper recycling unit of the school. (DIPRO)