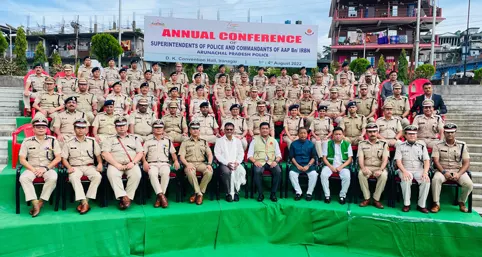 ITANAGAR, 4 Aug: Home Minister Bamang Felix emphasised on community policing to better handle law and order issues in the state.
He said this during the valedictory session of the four-day annual conference of the SPs and commandants of the AAPBn, the IRBn and the APP, which concluded at the Dorjee Khandu Convention Centre here on Thursday.
"Since community-based organisations (CBO) play a crucial role in the districts, police officers should work towards building confidence and coordination with the CBOs for better policing," the home minister said.
Highlighting the major incentives for the police department provided by Chief Minister Pema Khandu – which includes allocation of Rs 212.85 crore for the TCL action plan; upgrading of the PTC in Banderdewa; constructing a new PHQ building; constructing 300 barracks each at Chimpu and PTC Banderdewa; Rs 100 crore special package for infrastructure for the police department, etc – Felix sought "all possible financial assistance from the CM to make the department more robust and efficient."
"One of the most important requirements is establishment of a state-of-the-art forensic science laboratory and recruitment of manpower for better policing," he said.
On the sideline of the event, the chief minister, the home minister, the DGP, the chief secretary, and others flagged off a fleet of 345 police vehicles for different segments, released a booklet titled 'Resource Inventory-2022' of the State Disaster Response Force, and distributed awards to police officials for their distinguished services. (HM's PR Cell)