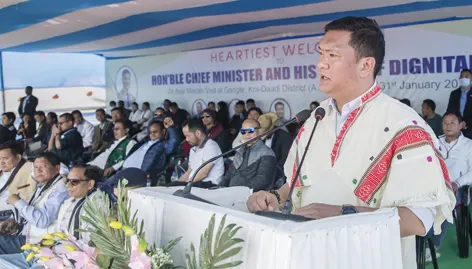 GANGTE, 31 Jan: Chief Minister Pema Khandu said that all the unconnected villages in Kra Daadi district will be connected by roads under the PMGSY, and, "wherever it is not feasible, roads will be constructed under the CM's comprehensive road network programme."
Addressing a public meeting here on Tuesday, Khandu said that, "until a couple of years ago, Gangte circle headquarters was unconnected by road.
"It was only after Balo Raja became the legislator of the area – and with the blessings of the prime minister – that we can today reach Gangte by road," he said.
The CM, who visited the Gangte Viewpoint, overlooking Tali circle and the confluence of the Kurung and the Kumey rivers, said that "the area could be developed into a tourist attraction point."
He gave assurance that he would take up the matter "on priority," and urged the local MLA to "hire a competent and reputed consultant to design and plan the project."
Referring to the old, dilapidated Pha bridge that connects Gangte circle with Kamle district, Khandu promised to provide fund for constructing an RCC bridge over the river.
He further said that fund would be sanctioned "within next month" for improving the infrastructure of the dilapidated government middle school here.
Earlier in the day, Khandu inaugurated Rai Balo model village, developed under the Chief Minister Adarsh Gram Yojana. He also inaugurated the circle office and government quarters, besides laying the foundation stone for an inspection bungalow.
Home Minister Bamang Felix and MLAs Balo Raja, Jikke Tako, Chow Zignu Namchoom and Phurpa Tsering, besides officials of the district administration accompanied the chief minister. (CM's PR Cell)