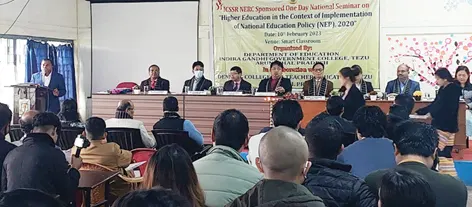 TEZU, 11 Feb: Eminent scholars from different parts of the country participated in a national seminar on 'Higher education in the context of National Education Policy (NEP)-2020', organised by the education department of the Indira Gandhi Government College (IGGC) here in Lohit district on Friday.
Addressing the seminar, which was organised in collaboration with the Dening College of Teacher Education (DCTE) here, IGGC Principal Dr Kamki Megu highlighted "the vastness and the multifaceted aspects of NEP-2020, along with its challenges," the college informed in a release on Saturday.
DCTE chairman Badang Tayang spoke about the importance of NEP-2020 and how it will affect the education system of the country.
Shillong (Meghalaya)-based NEHU's Economics Professor Bhagirathi Panda analysed "the genesis and conceptual framework of NEP-2020," and stressed the need to "go for research, inclusivity and benchmarking of quality education in context of NEP-2020, at par with the global education scenario," the release stated.
Doimukh (Papum Pare)-based RGU's Education Department Dean Prof T Lungdim, along with RGU English Department Professor Elizabeth Hangsing, and RGU Education Department Head Prof PK Acharya presided over the technical sessions, during which faculty members and research scholars from various institutes of higher education in the state presented research papers.