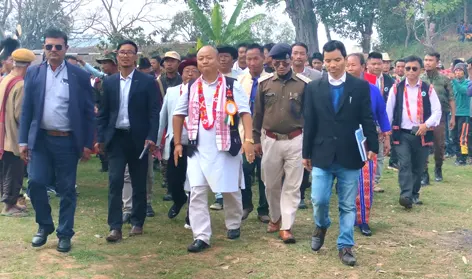 LONGDING, 28 Feb: Adviser to chief minister, Tai Tagak, on Monday toured Longchang circle in Longding district, where he visited the site of the Nginu massacre of 1875, and proposed erecting a war memorial there "under the aegis of 'Unsung Hero of Arunachal Pradesh'."
Later, Tagak attended a public reception organised "for the medallion and citation of honour of Khunjing Wangham and Wangchin Wangsapa posthumously on the occasion of the Azadi Ka Amrit Mahotsav." The martyrs were also conferred the title of 'unsung heroes' by the governor on 20 February.
In his address, Tagak spoke about the "valorous Wanchos who resisted the colonial subjugation" and the "rich history which had been forgotten forever, which finally received its due recognition under the initiative of the present government."
He commended the State Core Committee on Unsung Heroes of Arunachal Pradesh (headed by DCM Chowna Mein) and the history department of Rajiv Gandhi University "for their honest effort for the recognition of the indigenous people of Arunachal Pradesh."
He also credited Nepha Wangsa "for his selfless effort in contributing for the research of the unsung Wancho warriors and being part of the research team of the university."
Wangsa, who is a researcher and the author of The Nginu Massacre, and had been raising the matter of recognising the state's
unsung heroes, thanked the government of India's Azadi Ka Amrit campaign.
Wangsa travelled across India and also London, UK, with a research team in search of authentic documents to revisit the rich history of the indigenous people of Arunachal who resisted colonial subjugation.
The delegation also visited the site of the proposed school called 'Nibang Vidhya Niketan Nginu' in Longchan under Vidhya Bharati.
Nginu village chief Longwang Wangham also spoke.
The programme was attended by a host of dignitaries, including members of the Wancho Council, headed by its GS Somnai Wangpan, members of the Wancho Cultural Society, headed by its GS Sanwang Wangsa, Longchan ZPM Rajiv Wangsa, and the public. (DIPRO)