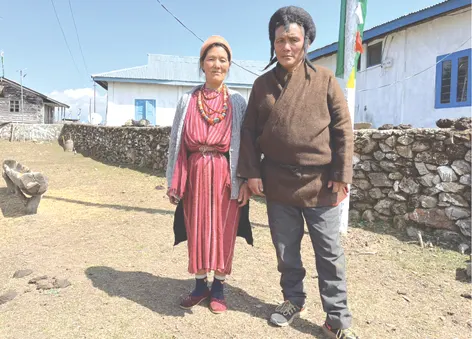 [ Bengia Ajum ]
LUBRANG, 12 Mar: "The Brokpa tradition is dying with us. The younger generations are not interested in continuing this profession. I feel very sad when I think about our future. I raise yaks like my own children. When I think of my life without them, I feel sad. I know that my yaks will die if they are not taken care of properly," said teary-eyed Tsering, a Brokpa.
Tsering is a resident of Lubrang village in West Kameng district. Lubrang is a yak pastoral settlement, and is home to the Brokpas, the nomadic herders who are part of the larger Monpa tribe. Brokpas like Tsering, who have spent the majority of their lives herding yaks in the high mountains of Tawang and West Kameng districts, are becoming a rarity as the younger generations have started to look for life beyond the mountains and are adopting modern lifestyle.
Tsering, who is 68 years old, started his journey as a Brokpa at the age of nine years. "Actually I am from Thembang and came to Lubrang at the age of nine. Since then, my life revolves around my yaks. For us, raising yaks is equivalent to raising kids. We have an emotional connection with them," said Tsering.
Yaks are a very important animal for the Monpa community in terms of culture, as well as religion. Its products like wool, butter, etc, are very important for the community.
When summer arrives, the Brokpas start their journey towards the mountains to herd the yaks. "We usually go to Mago and Luguthang in Tawang district to herd the yaks in the high mountains. It takes 15 days to reach there. We stay there for four months, and in the last week of October, when heavy snowfall starts, we start to come back to Lubrang," said Tsering.
The Brokpas carry all necessary items, including food and other materials required to survive for four months.
However, due to the Covid-19 lockdown, the Brokpas have suffered heavy losses. "Due to Corona, we could not go to Mago and Luguthang for three years. Actually, to go to Mago, we have to pass through Bhutan. But due to Corona, we are not allowed to cross over to Bhutan. Therefore we have to take the yaks to nearby Naga GG mountain. Many yaks are dying as the weather does not suit them. They are used to the cold mountains of Mago and Luguthang," he added.
Global warming is also affecting the lives of the Brokpas.
"The weather is getting warmer. Due to this, the yaks are dying frequently. We are finding it hard to access high mountains to herd yaks. Further, the younger generation does not see any future in this profession. All these things will ultimately lead to the end of the Brokpa tradition," Tsering said.
He said that he has three children but only his first son is continuing the tradition of the Brokpa way of life.
Brokpas like Tsering are now pinning their hope on the government to take some initiatives to keep this profession alive.
"The ICAR's National Research Centre on Yak in Dirang has done good work for us. However, still much is needed to make this profession attractive for the younger generation. The Brokpas are an important part of the Monpa tribe, and if this vanishes, a part of the Monpa culture and tradition will also die," he added.
"Whether it is Tawang or West Kameng, everyone is worried about the future of this profession," Tsering said.
The Brokpas also play an important role in extending help to the military personnel posted in the border areas.