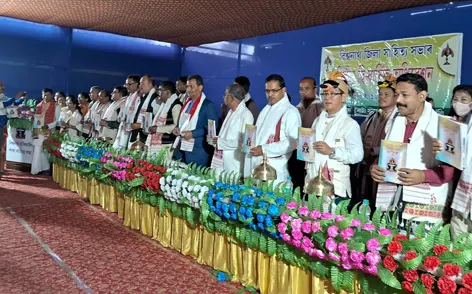 ITANAGAR, 20 Mar: Central executive members of the Nyishi Elite Society (NES), led by its general secretary Heri Maring, attended the 2nd general conference of the Bishwanath district unit of the Assam Sahitya Sabha (ASS) on Sunday.
During the programme, the ASS unit's general secretary Dr Upenderjit Sarmah in his address exhorted the people to promote their own languages and cultures. He suggested "imparting and carrying the legacy from schooling itself, rather than restricting talks to conference only," and appealed to the people to maintain cordial relations with Assam's neighbours, particularly Arunachal Pradesh.
"Assam and Arunachal have an age-old relationship through matrimony. Now also, cultural exchanges programmes are being done to foster strong bond and commitment towards maintaining healthy relationship and mutual coexistence. Such cordial relationship should be
maintained for the Northeast to prosper and become stronger," Maring said in his address.
He also strongly urged the ASS to "take up with the government of Assam for consideration of 15 numbers of Nyishi villages under the jurisdiction of Assam to be included in the tribal lists."
"The inhabitants of those villages may be issued ST certificates administratively for their educational and employment purposes," he said, adding that "inordinate delay in ensuring their rights would lead to inadequate representation of the community as enshrined in the Constitution of India."
Maring was accompanied by nine other central executive members of the NES from Itanagar.