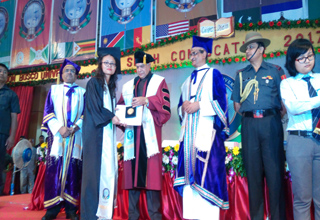 ITANAGAR, Sep 10: Minister for Art & Culture, Research, Dr Mohesh Chai said that the Research Department and Arunachal Institute of Tribal Studies (AITS) under Rajiv Gandhi University (RGU) should work in tandem to save the dying tribal languages of Arunachal Pradesh.
He was speaking in a talk programme on development of writing system for Mishmi (Kman and Tawra) at AITS auditorium, RGU on September 9, organized by the Mishmi Language Development Committee (MLDC), in collaboration with the Mishmi Students' Union, RGU.
Expressing serious concern over listing of 23 tribal languages of Arunachal Pradesh under the categories of unsafe or critically endangered list by the UNESCO, which was published by the Centre for Endangered Languages (CFEL) in a newsletter, Dr Chai said that we must not allow this to happen.
He said that the government is taking serious note on this and informed that fund to the tune of Rs 17 lakh has been allocated to the Department of Research to carry out language work.
Mishmi Welfare Society (MWS) Chairman, Dr S Tawsik appealed to the young scholars from the Mishmi community pursuing studies in various universities to contribute their knowledge in bringing out writing system for the community.
Faculty members of AITS, Lisa Lomdak, Dr Wanglit Mongchang, Dr Tarun Mene and Lienjang Zeite appreciated the efforts made by the language committee and gave some valuable suggestions.
Sokhep Kri, State Editor (Gazetteers), GoAP and Naina Chai gave a presentation on writing system of Kman and Tawra respectively.
The talk was attended, among others, by Jaweplu Chai, Judge, District Sessions Court, Yupia, Dr Adisi Kri, Oncologist, TRIHMS, Naharlagun, Sokhyai Mam, District Art & Culture Officer, Naharlagun, Shivumso Chikro, Assistant Professor, Don Bosco College, Jollang, Rinkiolu Chai, Assistant Professor and Khijum Manyu.