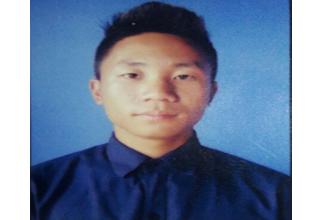 Staff Reporter
TAWANG, Sept 20: A student of Tawang Government Higher Secondary School (GHSS), identified as Toko Yame is reportedly untraceable since September 16 last after a clash broke out between a group of students from GHSS and Jawahar Navodaya Vidyalaya (JNV) at the latter's campus.
Toko, a class XII student of GHSS Tawang is the son of Tawang District Sports Officer, Koya Yame and is a resident of Bana under East Kameng district.
The family members suspect a planned murder, as the whereabouts of the boy is yet to be known even after four days of the incident.
In an FIR lodged with the Tawang Police Station, the missing boy's father, Koya claimed that his son had a quarrel with a group of boys led by one Karma Tsering on September 15, 2017, but the matter was resolved amongst them soon.
However, on the next day, another group of boys led by Tsering provoked one of his son's friends by assaulting him, he claimed. The aggrieved father went on to claim that, left with no choice, his son called his friends from JNV to settle the case.
Later, on instigation by Tsering, people started beating his son and his friends, which led to a brawl.
Reportedly, three students sustained grievously injuries during the incident.
"Since then, my son has been missing and couldn't be traced", Koya added.
He further claimed that his son was being targeted by the mentioned group for unknown reasons.
In his complaint report, Koya sought immediate arrest of Karma Tsering and Pasang Tsering, a van driver of vehicle number AR 03-1437 on suspicion of crime.
Sources from Tawang informed this daily that 21 persons have been detained for interrogation and five persons were reportedly arrested for their alleged involvement in the incident.
Deputy Superintendent of Police, G Dajangju informed this daily over telephone that three separate cases have been registered with the Tawang Police Station, including missing and kidnapping cases following the said incident.
In an advisory notice, Tawang Deputy Commissioner, Sang Phuntsok appealed to the PRI members, police, public leaders, students' union and district administration to help in tracing the whereabouts of the missing boy.
The DC also appealed to the people to maintain calm.
Meanwhile, the Tawang Nyishi Welfare Association condemned the incident in the strongest term and demanded that the police immediate identify the culprits involved in the incident.
Further, the police and district administration have pressed their men, along with relatives of the missing boy, in the search operation to trace Yame out.