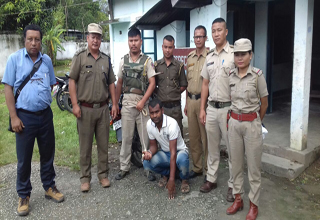 [ Indrajit Tingwa ]
NAMSAI, Sep 24: The Namsai district police has arrested wanted car lifter, Monoj Gogoi (alias Mintu Gogoi) from Khot Khoti under Karbi Anglong district, Assam on Saturday.
Gogoi was arrested from his residence after an intensive operation was led by Namsai Police Station, Inspector Lod Tari and SI Milo Lalyang, with support of other police personnel.
The accused has been allegedly involved in several cases of theft, car lifting, kidnapping and several other cases have been registered at the Namsai Police Station against him.
In 2012, he was also arrested for the alleged kidnapping and murder of the Gaon Burah of Pangkhao village under Chongkham circle. He was later out on bail, but in the intervening period he was also wanted in connection with a car lifting case by the Miao unit police.
Mostly targeting vehicles in eastern Arunachal Pradesh, parts of Assam and Meghalya, Gogoi's modus operandi was identifying targets who rent out their vehicles, particularly luxury cars. He would hire a vehicle and trick the driver into consuming some intoxicant, which would make them unconscious. He would then dump the driver in a far off place and vanish with the vehicle.
The alleged accused is said to be well connected and was continuing his lifting spree with impunity.
However, in a case of lifting a brand new Winger UN of one Chow Kamong Manlong of Sengsap village in June this year, a case was registered at the Namsai Police Station under section 365/328/392 IPC, and subsequently, the Namsai district police made stronger efforts to nab the culprit.
Gogoi is currently under nine days police remand at the Namsai Police Station.
The OC said that they hope to find more details of other members of his gang and the actual number of lifted vehicles after further interrogation.
Vehicle owners in the area said that his arrest has brought some respite for vehicle owners and thanked the Namsai district police for nabbing the alleged accused.
The team of police officials also included L/SI N K Khen, OC (SB) B Konwar, HC C W Khamhoo, Ct O Khamti and Ct J Sonowal, who worked under the supervision of Namsai SP, C K Mein.