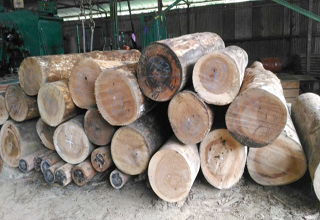 Staff Reporter
CHANGLANG, Sep 26: Namdang Range Forest is witnessing large scale timber logging and clearing of vast forest area by the Veneer Mills operating in the area at the behest of Forest Working Plan since 2015-16.
Earlier, the villagers had in a complaint letter to the Changlang Deputy Commissioner and Divisional Forest Officer apprised them about the rampant logging being carried out by the saw mills operating in the area.
In the letter dated May 17, 2017, the villagers informed that the mills have been exceeding the annual forest quota enshrined in the working plan 2015-16 respectively. They have alleged the saw mills owners of destroying their community forest and urged the district administration to initiate proper inquiry into the matter.
On receipt of the complaint, the DC's office had also written to the Changlang Divisional Forest Officer, directing him to enquire into the said allegations.
According to the villagers, the saw mills are not complying as per rules specified under the Forest Working Plan since 2015-16, that is, they are exceeding the limit of USF .550 cubic meter allocated against Namdang Range Forest.
Also, none of the prescriptions of the working plan like regeneration, protection and management task of the forest has been taken into account.
As per the said working plan, no new road has to be constructed for timber extraction, whereas these mills have already made several new roads leading into virgin forest hinterland. Elephants, dumper trucks and excavators are being used to extract timber in complete violation of the National Green Tribunal Act and no measures have been taken to regenerate the forest which has been affected by lumbering vis-a-vis its protection against biotic interference as directed by Supreme Court of India.
Moreover, timber operations should not be carried out on the slopes of 45 degree (steep slopes) or be left out in nearby areas of streams and rivers.
These mills are reportedly continuing their operation regardless of these norms, running purely on profit motive.