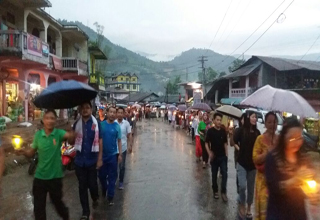 SEPPA, Oct 1: The East Kameng Social Welfare and Cultural Organisation (EKSWCO) and All Seppa Colony Welfare Development Committee organised a rally at Seppa on September 29 in memory of Toko Yame, a class 12 student, who was allegedly murdered in Tawang following a group clash recently.
Despite heavy downpour, a sea of people participated in the march that started at 5 PM from the general ground and culminated at the same spot after covering various parts of the town. They offered flowers and lit candles before a photo of Toko.
Addressing the gathering, EKSWCO Convenor Robin Hissang, who was earlier part of the peace mission delegation to Tawang, said that all the alleged accused, including a taxi driver, have been arrested after EKSWCO had served a three-day ultimatum to the Tawang District Administration and the police.
The marchers, including members of the Women Welfare Organisation, the Bana-Richukrung Social & Development Organisation, and the East Kameng District Revival Christian Association also demanded capital punishment for all the alleged accused.