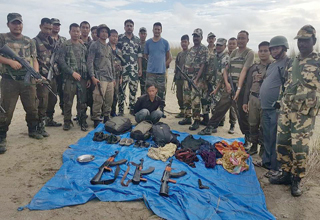 ITANAGAR, Oct 3: Kharsang Police on Monday rescued one Indeshwar Taye, an employee of Namchik Tea Estate under Kharsang circle, who was abducted on September 20 by unknown armed miscreants for undisclosed ransom.
He was rescued from the forest area between Gorakhpur Chakma village and Balinong village under Kharsang circle, informed Miao SDPO John Pada.
The same night Police launched massive operation and apprehended one Chittiso Chakma from Bijoypur I village under Bordumsa Circle, who was allegedly involved in the crime.
The Police team further busted the camp of the miscreants located at the riverside of NoaDihing near Bijoy Pur I and recovered 3 Dummy AK 47 rifles, 1 Dummy Pistol and some incriminating materials.
There were five more members in the armed gang namely, Bocso Chakma, Bishnu Chakma, Sanjiv Chakma, Manpong and Sikho@Garbenga Chakma, who are still at large.
The modus operandi of the gang was that they would abduct officials of factories, saw mills etc with the help of country made pistols and dummy sophisticated arms and demand huge ransom from the owners.
The gang is also wanted in Tezu PS Case no. 42/17 u/s 365 and Namsai PS case no.26/17 u/s 223/224 IPC.
This notorious gang has been very active in Lohit, Namsai and Changlang and has been engaged in kidnapping and extortion activities in many instances.
The Operation was led by SDPO Miao John Pada and comprised of OC Kharsang TomaiWangpan, OC Bordumsa Thony Tayeng, SI RK Yein, SI P.Nath, ASI L.Genden, ASI KishanKumar, 186th CrPF D- company Bordumsaalong with the help of villagers of Bijoy Pur – 1.
Several members of the gang have been arrested over the past months and the operation is still on by the security agencies to nab the absconding gang members.