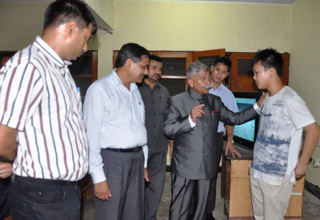 NIRJULI, Oct 7: Governor of Arunachal Pradesh Dr B D Mishra expressed concerns on the issue of encroachment of the North Eastern Regional Institute of Science and Technology (NERIST) campus.
Raising this concern during his maiden visit to the NERIST campus at Nirjuli on Saturday, the Governor said that encroachment must not be allowed as it has stuttering effect on the campus dwellers.
The Governor, who is also the ex-officio President of NERIST Society, interacted with the faculty members and said that NERIST is the pride of the North east, and that it has the noble responsibility of motivating and shaping the youth of the country towards nation building.
He advised the faculty and management to take necessary action which would be in the interest of the students, and suggested adopting study exchange programme and other innovative ways to enrich the quality of education in the premier institute. He also suggested for a NERIST alumni organization.
Earlier, NERIST Director in-charge, Professor Tamo Mibang, Vice Chancellor, Rajiv Gandhi University and RGU Registrar, Dr R P Bhattacharjee briefed the Governor about the institute.
The Governor also visited a boys' hostel and interacted with the students there.