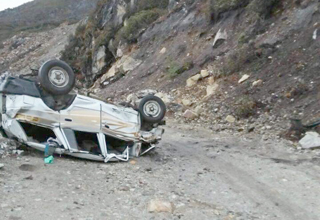 TAWANG, Oct 7: At least three persons were killed and four others injured when a taxi (Tata Sumo) carrying tourists from West Bengal skid off the road and fell into a gorge at Kalemta near the Shiv Mandir on the way to Bumla Pass, Tawang at around 2.30 PM on Saturday.
Sources from Tawang unit police informed that the tourists were headed for Tawang when the local taxi lost control and skid off the road between the Bumla and Tawang road.
Two women are also reportedly among the deceased.
The four surviving passengers, including the driver, have received grievous injuries. Of the three who are said to be in critical condition, two were admitted at the Army Hospital and others were admitted at the Tawang District Hospital. Later, the critical passengers were referred to Tezpur for further treatment.