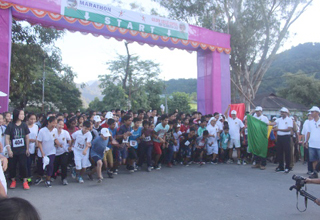 [ Karyir Riba ]
ROING, Oct 7: Ahondo Menjo took an hour and 17 minutes to complete a distance of 20 km and won the marathon race in men's category, organized as part of the Golden Jubilee Central Reh Celebration-2018 here on Saturday.
Gego Mepo and Duti Umpe came in second and third positions.
Mother of three, Hema Mito won the race in women's category. Seehi Linggi and Osunam Pertin came in the second and the third places respectively.
The open-to-all marathon race, with the theme "Run for connecting people with nature", saw the participation of nearly 500 people from all walks of life.
The winners, second and third place finishers were awarded certificates and cash prizes of Rs 12, 000, 8000 and 5000 each respectively.
The committee also gave away 10 consolation prizes to runners-up from both the men and women's categories.
Special mention was made for J N Sah from GHSS Roing, one of the senior citizen participants, for completing the race.
Lower Dibang Valley Deputy Commissioner Deepak Shinde flagged off the race that started from Gandhi Park in the middle of the town to Simare village, and back, covering a total distance of 20 km.
The town is gearing up for the grand celebration of Reh, as it completes its 50th general celebration in February 2018.
The marathon race was organised by the Golden Jubilee Central Reh Celebration Committee under the aegis of the Idu Mishmi Cultural and Literary Society.