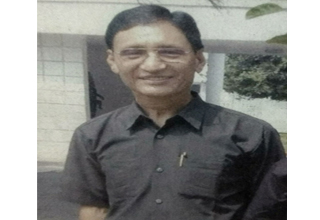 ITANAGAR, Oct 10: Veteran politician and former Minister, Tadik Chije passed away on Monday, following prolonged illness at his rented apartment in Nirjuli.
Born on 2nd October, 1952 to late Tame Chije and late Yaying Chije of Singbu village under Monigong Circle of West Siang, Chije did his initial schooling from Monigong and Mechuka and later acquired his Bachelor of Arts Degree from Jawaharlal Nehru College, Pasighat.
He started his po-litical innings in 1978 as Member of Provisional Legislative Assembly, representing 33rd Mechuka Asse-mbly Constituency.
During his four term tenure as law maker, late Chije served the state in various capacities.
Apart from serving as Deputy Speaker in the year 1978-79, late Tadik Chije held the office of Pro-term Speaker twice in 1999 and 2004. He also served as Minister BADP and Animal Husbandry & Veterinary in the year 2003-04, and held several other important posts in his 35 years long political career before retiring from active politics in 2009.
Meanwhile, Governor, Dr B D Mishra and Chief Minister Pema Khandu have expressed shock and grief over the demise of Tadik Chije.
Joining the people of Arunachal Pradesh in praying to the Almighty to give the bereaved family strength and courage to bear the irreparable loss, the Governor also offered his prayer for eternal peace of the departed soul.
In a message this evening, Pema said that the state has lost a seasoned politician and a first generation leader. Chije would remain immortal for his contributions in the evolution of Arunachal Pradesh and welfare of his people, said the CM.
Late Tadik Chije was 63 and is survived by his wife, four sons, three daughters and three grandchildren.
Further, the Boh Ramo Bokar (Adi) Elite Society (BRBES) has expressed deep shock over the demise of the former MLA. The Society, in its condolence message, described late Tadik Chije as a kind and generous man, besides being one of the best leaders the area had produced.
Referring to the sacrifices made by him for the development of the area in general and Boh Ramo Bokar (Adi) society in particular, the Society said that his demise has caused a great loss not only to the people of 33rd Mechukha Assembly Constituency, particularly the Adi community, but the entire state in general.
Members of Mechukha Adi residing in the Capital Complex, under the banner of All Libo Ramo Bokar Welfare Society (ALBRWS) also deeply mourned the demise of Tadik Chije. Remembering late Chije as one of the greatest leaders of the area and state, the members stated that his sudden and untimely demise has created a vacuum which cannot be filled in years to come.