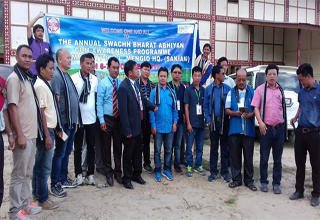 ITANAGAR, Oct 11: The annual cleanliness campaign cum awareness programme conducted by All Sagalee Employees' Forum (ASEF) was held recently at Sakiang town under for Mengio and Silsango Circles.
More than 500 people including students, intellectuals, public, Panchayat leaders, general public and employees of Silsango and Mengio circle participated in the programme. The event started with Swachh Bharat Abhiyaan at Town Roads, Govt. Secondary School Mengio and PHC Mengio which was followed by awareness programme at Community Hall.
Secretary General of ASEF Nabam Tatum Hina highlighted about various activities undertaken by the forum.
Prof. Nabam Nakha Hina of Rajiv Gandhi University dwelt at length about importance of education which include both formal and informal.
Dr. KT Mulung, Deputy DHS (NVBDCP) cum Resource Person emphasized on the need for prevention and control of Vector Borne Disease like Malaria and Dengue. He made power point presentation and explained in details.
Horticulture Development Officer Daniel Nabam who was resource person on Agriculture and Horticulture spoke about agriculture farming with special emphasis on Cardamom plantation which is the basic commercial activity in the area.
ZPM Mengio Tarh Passang who attended the function as a special invitee appreciated the ASEF for undertaking awareness campaign on important subjects and expressed hope that it will benefit the people of area.
ZPM assured to extend all necessary help from his side to ASEF in future. He also categorically mentioned that, the ASEF members are the true backbone of the society.
President ASEF Er. Gollo Tagar in his address sought the support of all the denizens of Sagalee Sub-Division towards initiative made by ASEF for the greater cause of society.
The members of ASEF distributed 100 numbers of Strong Plastic Arm Chair and Mike set which was donated by Er. Techi Totu EE RWD to Govt. Sec. School Mengio. The team also distributed 20 Steel Water Filter for all the schools of Mengio and Silsango circle. EAC incharge Gyamar Amte and Er. Techi Totu, Vice President ASEF also spoke on the occasion.