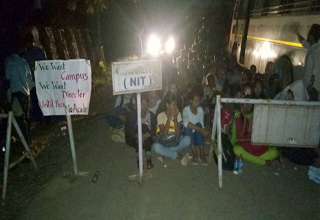 Staff Reporter
ITANAGAR, Oct 11: The students of NIT Jote on Wednesday continued the indefinite protest by blocking road to its temporary campus at Yupia.
Since Monday, the students have been protesting demanding basic amenities at its Jote permanent campus. From morning onwards students blocked road holding placards and raising slogan in support of their demands.
The situation turned tense when one student identified as Bamang Sima, a 1st year student slit his wrist out of frustration. He was immediately taken to hospital and his condition is stated to be stable.
While talking to this daily one student said, "Everyone including NIT authorities and Ministry of Human Resource Development (MHRD) has abandoned us. Sadly, none of the representatives from Government of Arunachal has tried to contact us to hear our grievances. The whole situation is deeply frustrating and it is demoralizing us."
The demands of students include running water, clean and hygienic toilets, proper bus facility, establishment of regular OPD with medicines, separate hostel building, shopping complex, amusement place, mobile and internet facility and improvement of Itanagar-Jote road.
Till the filing of this report the students were continuing their protest and are refusing to stop till their demands are fulfilled.