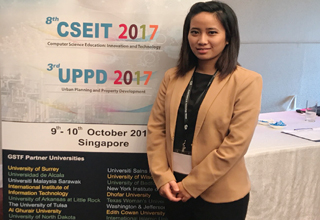 ITANAGAR, Oct 14: Yami Landi, a Research Scholar from Rajiv Gandhi University (RGU), Doimukh recently attended the 6th Annual International Conference on Journalism & Mass Communications at Singapore. The Conference was organized by the Global Science & Technology Forum (GSTF).
Her efforts and interest towards Intercultural Communication, especially in the state of Arunachal Pradesh bagged her the opportunity to be one amongst the few selected for Paper Presentation at the International Conference in Singapore, which was held from October 9 to 10.
Her paper titled "Dimensions of Communication in Intercultural Marriages among the tribes of Arunachal Pradesh, India" is an effort to highlight the significance of Intercultural Communication in the changing trends of marriage in the state of Arunachal Pradesh and also examine its role in maintaining peace and harmony amongst the highly diverse tribes of the state.
Being the first in her Department to have got such global platform to present her findings, she encourages more young people into the field of research. (Contd. on P-3)
The conference was attended by delegates from Belgium, Turkey, Indonesia, China, Pakisthan, UAE, AuStralia, Germany, UK, Nigeria, Fiji and Indian Universities.
Yami is a PhD researcher at Department of Mass Communication.