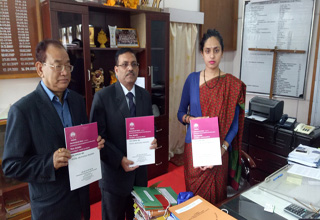 ITANAGAR, Oct 14: NABARD (National Bank for Agriculture and Rural Bank)'s Potential Linked Credit Plans (PLPs) for West Kameng and Tawang districts were launched recently.
The PLPs were launched at Bomdila, West Kameng and Tawang on October 11 and 13 respectively by NABARD's Arunachal Pradesh Regional Office General Manager Dr. Gyanendra Mani along with Deputy Commissioners of the two districts Dr. Sonal Swaroop (West Kameng) and Sang Phuntsok (Tawang).
The potential for institutional credit to priority sector for the year 2018-19 has been estimated to the tune of Rs 3085.06 lakh for West Kameng and Rs 2175.08 lakh for Tawang. The potential for credit flow to agriculture sector including crop loan has been estimated to the tune of Rs 2291.51 lakh for West Kameng and Rs 1472.76 lakh for Tawang.
During the launching programmes in both the districts, Dr. Mani made an attempt to understand the reasons for poor credit flow to agriculture sector and low CD ratios in both the districts and explore the possibility of improving the same.
He also emphasized the need to collect, compile and publish the data base for various subsectors of the agriculture sector which are at present being observed as having the issues of inconsistency.
He also apprised about the supports being offered by NABARD to banks regarding financial inclusion. Dr. Mani jointly with respective DCs discussed the progress of various developmental activities which are being implemented by State Govt. and NABARD.
The doubts regarding modus operendi of 3 flagships programmes namely CM's Krishi Rinn Yojana, Deen Dayal Upadhayaya Bunkar Yojana and Deen Dayal Upadhayaya Swavalamban Yojana were also clarified during the interactions with the banks, line department Officials.
Arunachal Pradesh State Co-operative Apex Bank Ltd. had organized "Going Digital" Special camp at Sera Basti Bomdila on October 11 and at Changbu Village in Tawang on October 13.
These programmes were supported by NABARD Arunachal Pradesh RO under its "Financial Inclusion Fund" and were aimed at creating awareness in the rural areas about cashless banking and other various financial products that are being offered by Banks to general public.
The Go Digital programmes were addressed by Dr. Mani, Thongdok, Kamal Roy, DDM, NABARD, branch managers of Apex Bank and also by the line department officials of the district.
TseringThongdok, MD, APSCAB Ltd was also present during the launching of PLP in West Kameng.
NABARD prepares PLPs for each district of the country every year with a view to facilitate flow of institutional credit to priority sector activities including crop loan and term loan for agriculture and allied activities.
In such an annual exercise, NABARD carries out a detailed exercise for mapping the credit potential that is expected to stimulate balance growth of all the sectors of the economy of a district. The PLP projections serve as a basis for banks in preparing Annual Credit Plan.
The PLP for the year 2018-19 is based on the theme "'Water Conservation – Per drop more crop" and doubling of farmers' income by 2022 with an objective to sustain the contribution of agriculture and allied activities in the economy of the state with specific focus on 'income security' of the farmers'.