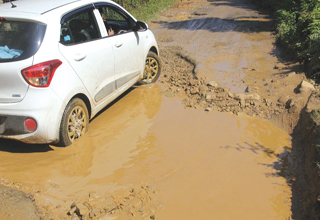 [ Nellie N Manpoong ]
ITANAGAR, Oct 17: With the Adventure@Mechukha festival set to begin this November, tourists who have set their eyes towards the heavenly place will have to gear up for more than mere adventure at Mechukha when they discover that the road to the major stoppage point of Aalo has another adventure in store for them.
After collecting much-needed information, a team that went to visit Mechukha a few days back chose the Pasighat to Aalo route and discovered that if one wants to save their car from unrepairable damage, it would take at least two hours to cover a distance of merely 27 kilometres in a hatchback car, and roughly around an hour and half in an SUV to cover the same distance.
Residents of Aalo informed that the shorter route -Likabali to Aalo road – is in a much worse condition.
While the road to Pasighat is as smooth as butter, the Pangin to Aalo stretch of road will not only break your backs, but will also break down your vehicles and an experienced driver is a must to survive the journey.
To paint a picture, the road worsened after the recent rainfall and the potholes turned into ponds that could house plenty of fish. There was not much choice between turning left or right since both sides were more like craters from the moon, and one would be compelled to take the risk of damaging the oil chamber of their car and everything else underneath.
Going by the oil dripping from one particular car, they probably did damage their car.
It was evident that regular commuters knew where each pothole was safe to cross and at what point, but again, at the risk of damaging their cars.
A resident of Aalo said that even if they were used to the road, it cost them their time and money -especially in the regular upkeep of their cars, and that the district administration is yet to take concrete measures to restore both the routes.
Reportedly, residents of the circle are also going to stage a protest against the terrible road condition on the 23rd of this month and hopefully, the government will take notice.
One resident was of the opinion that legislators need to stop using choppers and travel by these roads to understand the plight of daily commuters and people who voted for them.
Visitors will find that the Aalo to Mechukha road is in a much better condition in comparison to the Pangin to Aalo stretch, and construction is also underway at several locations till Kaying. Hopefully, the road is completed on time and maintained and does not turn into a death trap.
For once in a while visitors, the jagged road will serve as a memory of how they travelled through rough roads and came out alive to tell the story, but for residents who use the road on a regular basis, it is no less than a nightmare.
This nightmare will continue if the government does not open its eyes to the road communication issues that lead to one of the highest tourism potential places in the state.