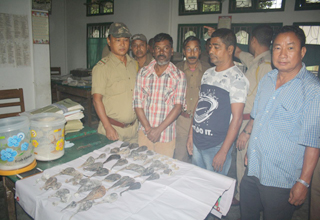 [ Prafulla Kaman ]
RUKSIN, Oct 22: Wildlife Control Bureau sleuths, with the help of Assam Police and forest officials of Assam and Arunachal Pradesh recovered large quantities of wild animal organs from Harmuty, Lakhimpur district on Sunday morning and arrested two persons in this connection.
The joint team, following a tip off, raided the residents of Sorbat Pradan(45) and Ajit Saha(46) at Harmuty, not far from Banderdewa police check gate early this morning and seized 42 gall bladders of Black Bear, 12 bear skins and large numbers of tiger nails from their possession.
The duo confessed before the police that they were involved with the illicit trading for last two years and purchased the wild organs from local villagers of Arunachal Pradesh to sell in Shillong.
They are currently under the custody of Lakhimpur Police.
Reportedly, a piece of black bear gall bladder is sold at Rs 3 lakh in the international market.
This is the third incident of wild organ recovery in the region this year. The Assam Police in August apprehended two persons from Arunachal at Simenchapori (Dhemaji) with huge animal organs including skulls and skins of bear, horns of hog deer and tiger bones. Recently, the Pasighat unit police, with the help of woman activists caught a person with two ivories and four endangered lizards at GTC area and recovered huge quantities of liquor and other incriminating articles.
Foresters and conservationists have blamed lack of adequate forest and wildlife staff and absence of Special Protection Force in the state for the high incidence of poaching and wildlife crimes.
Meanwhile, the samples are being sent to the forensic lab for confirmation.