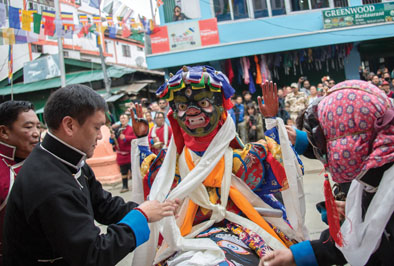 TAWANG, Oct 26: Chief Minister Pema Khandu on Thursday declared open the fifth edition of the Tawang festival at the general ground in Tawang.
This was followed by school children releasing hundreds of balloons in air to mark the beginning of the four-day festivity.
Earlier, the Chief Minister inaugurated the exhibition stalls where products and materials from various government departments, NGOs and local community bodies were showcased.
The stalls have produces from horticulture, agriculture, forest and textile departments. Local organisations also displayed their traditional handlooms, traditional paper making technique and local ornaments. The festival also has food stalls from different communities of Arunachal selling tribal delicacies.
North Eastern Council (NEC) Secretary, Ram Muivah, who was also present on the occasion, inaugurated the traditional games and sports competition.
The competition will be held on local archery, weightlifting, shotput, tug of war, Thepi, Glangnyuri and Lei.
Earlier in the morning, the Chief Minister attended the street carnival show held at Old Market, which will be held for three days.
On the first day, the famous Yak dance from different villages of Khirmu, Mukto, Gyankhar, Bomdir, Gonkhar were displayed.
International artistes from Tibetan Institute of Performing Arts and artistes Tenzin Kunsel and Ani Choying Droma are also taking part in the event.
The show will also have cultural presentation from Adi, Nyishi and Monpa tribes.
RWD Parliamentary Secretary Jambey Tashi, Tawang MLA Tsering Tashi and Tourism Secretary Dr Joram Beda also accompanied the CM.