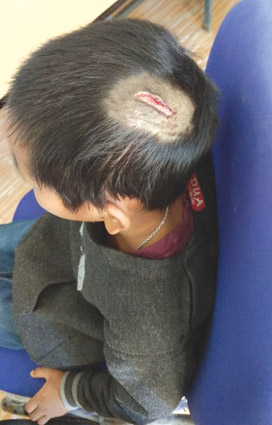 Staff Reporter
ITANAGAR, Nov 7: A seven year old boy, with multiple injury wounds was rescued by the Child Welfare Committee (CWC), Itanagar on Tuesday morning.
Childline officials informed this daily that the boy was found sitting alone at the check point in Ganga, Itanagar at around 7AM when CRPF personnel on duty saw him. Since the child was reluctant to speak, the police were informed, from where Childline Itanagar authorities and the CWC took the responsibility of the young boy.
When enquired by the CWC and Childline, the young boy narrated that he was engaged as child labour in one Bitom Bam's house in Niti Vihar and had suffered multiple counts of physical assault at the hands of the employer's wife, Inu Bam.
When rescued, the boy was found with fresh wounds on his left leg and a deep cut on his head.
Accordingly, the CWC has lodged an FIR against the employer and his wife for engaging a child labour and causing cruelty along with physical assault.
The child has been provided temporary shelter in the Child Care Institution of Oju Welfare Association.