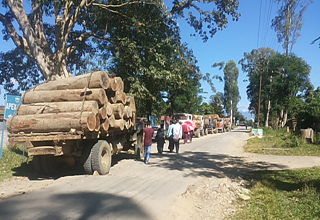 [ Indrajit Tingwa ]
MIAO, Nov 10: The Miao police apprehended timber- totaling seventy six logs of different species from the Upper Colony area on Thursday.
A total of seven trucks were seized and cases have been registered under Indian Forest Act while all the seven drivers and their assistants were also taken to custody.
The team was led by SDPO i/c Miao Tasi Darang that included officers Bharati Mingki and SI J.Aran along with the personnel of Miao PS. The whole operation was conducted under the supervision of SDPO Miao John Pada.