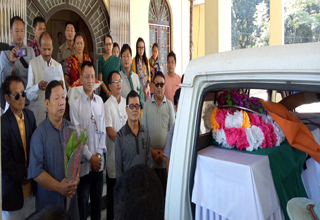 ITANAGAR, Nov 10: Arunachal Pradesh Congress Committee (APCC) General Secretary, Haryom Bam breathed his last in Itanagar on Friday morning.
Born on 21st May 1963, Bam was associated with the INC party since 1980. He was the Papum Pare DCC General Secretary from 1994 to 1999, APCC Secretary from 1999-2000, General Secretary for two terms from 2000-2006, Narcotic Cell Chairman from 2006 to 2014, State Convenor of Indian National Trade Union Congress (INTUC), Convenor, Rashtriya Yuva Parishad, Chairman, Public Grievances Cell from 2014 to 2017 and General Secretary from 2017 and Chairman of Rajiv Gandhi Vichar Manch. Late Bam was also associated with many other organizations and became the General Secretary of Ego Area Development Managing Committee in 1985 and Convenor of Arunachal Olympic Association.
He was elected as Anchal Samity Member in 1987.
APCC President Takam Sanjoy and other Congress leaders and workers including PCC office bearers and frontal wing organisations paid their last tribute to Late Haryom Bam, wrapped in party flag at Rajiv Gandhi Bhawan here. The members expressed deep sense of condolence on the untimely demise and observed two minutes silence as a mark of respect.
The party flag in the APCC office will fly half mast for two days on Nov 10 and 11.
His last rites will be performed at Dari, Lower Siang on Nov 11.
APCC described him as an active, energetic, sincere and dedicated Congress leader, who rendered selfless service. He was a compassionate human being with a great political wisdom. He sacrificed and worked tirelessly for the welfare of the people till the end of the day. His death is an irreparable loss to the party in particular and state as a whole, the party said.
Galo Welfare Society (GWS) has deeply mourned the untimely demise of its Founder Vice President Haryom Bam.
Recalling his contribution in social development, the GWS said late Bam played a pivotal role in mobilising the Galo society. Besides, he contributed to the overall well being and development of the state at different levels, it said.
The Lego Lemgo Welfare Society (LLWS) has also expressed deep shock and grief at the death of its founder member.
Contribution of late Bam towards development of the state and the society shall be remembered forever by the people, the Society said in a condolence meeting. The void created by Bam's death would be difficult to fill, the Society added.