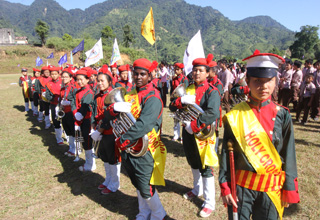 ITANAGAR, Nov 10: The Talent Search 2017 organized by All Arunachal Private Schools Association (AAPSA) and Sahodaya, Arunachal Chapter was inaugurated here on Friday by Education Minister Honchun Ngandam.
Ngandam called upon the student community to avoid the use of tobacco, drugs and alcohol in any form. He also shared that state government is trying its best to streamline education scenario in order to improve the quality of education in the state.
The Minister also applauded the private schools of the state for their contribution towards education sector.
Speaking at the inaugural function, Director Trade and Commerce Tokong Pertin called upon the students to cultivate the habit of reading good books.
The students of Donyi Polo Vidhya Bhavan and Holy Cross school enchanted the audience with beautiful dances. The band of Holy Cross School made a spectacular display of their talents at the opening ceremony.
Talent Search, the 9th of its kind, and the third in a row to be hosted by Donyi Polo Vidya Bhawan, an initiative of AAPSA and Sahodaya, Arunachal Pradesh, provides a healthy platform for the students of the private schools of the State to showcase their talents and get enriched through healthy competition, said a press statement.