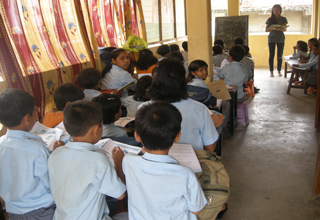 [ Tongam Rina ]
Twelve-year-old A wants to be a professional painter when she grows up. But I don't have enough time, she says while comparing her prize with that of her friend. Both of them won a prize each, in an event to mark the Children's Day at Don Bosco Youth Centre (DBYC), Itanagar.
She spends all her free time looking after her four younger siblings as her parents have busy lives. Her mom sells vegetables to provide for the family.
"My dad gambles so we rarely see him", she says.
"So I really have no time to sketch or paint", she smiles as she fiddles with her prize.
The only time that is hers is the four hours that she spends at the Don Bosco Learning Centre (DBLC) in Itanagar, six days a week where she is a student.
A introduced me to five of her friends, enjoying a rare day off from the centre and life situations beyond their control. But her friends seemed more interested catching up with one another than talking to a know-all ignorant journalist.
So I turned to Fr Cyriac, the director of the DBYC who runs the DBLC, which was established in 2007, with an initial enrolment of 12 children in nursery and class one.
Ten years later, the Centre gives free education to nearly 300 children up to class IV, while 25 others who are on admission waiting list are given separate tutorials in the evenings. Almost all the children belong to BPL families and are provided free education by the DBLC. The centre is self-supported and does not have any support from the state or central governments or private agencies.
"The children who are admitted to DBLC are in the age group of 4 to 14 years and non-school-going due to financial constrains or due to lack of awareness among their parents" Fr Cyriac says.
On completion of their education at the centre, DBLC helps them get admission in various government and private schools in the state.
Each year the children wanting to take admission are growing but there are space and fund constraints. DBYC in E-sector, where the literacy centre is located, does not have enough space or even enough furniture or classrooms. One of the classes is held in the verandah of the building with curtains as a makeshift wall, barely few meters from the busy highway.
But Fr Cyriac says that even though there is bare minimum infrastructure, the emphasis is on quality education.
The DBLC aims at providing the best of education to the poorest and underprivileged children of Arunachal Pradesh, he says.
There are only six teachers for the entire centre and they take a very nominal salary.
The only support that has come so far is the free medical assistance extended by the CRPF and ITBP battalions of Itanagar.
We will have better facilities and will be able to enrol more students once the Dorjee Khandu annex comes up, says a hopeful Fr Cyriac as he tells me how heartbreaking it is to turn away children who want to take admissions.
In February this year, Arunachal Pradesh Chief Minister Pema Khandu had assured Rs 3 crores for the annex in the new DBYC campus. It is likely to come up soon. But till then, these children who belong to poor Arunachalee tribal families and migrant workers from elsewhere will have to make do with whatever the DBLC is able to provide with its meagre funds. As the children ran around bare feet, dressed in tattered clothes, A came to say good bye. Want to know what A got as a prize? A painting set.