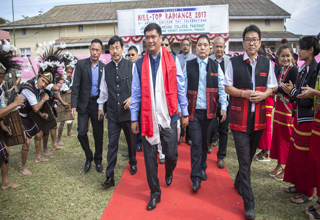 PASIGHAT, Nov 17: Chief Minister Pema Khandu informed that state govt is also focused on youth empowerment. He said several youth oriented schemes such as Deen Dayal Upadhayay Swavalamban Yojana have been launched to help them in self-employment. The Chief Minister further appealed the youths to avail GOI scheme – MSME cluster development programme scheme under which the centre will provide grant in aid of Rs10-15 crore for setting up small scale industries.
He was speaking at an event in JN College, Pasighat.
Pasighat being an emerging industrial area, he hoped that entrepreneurs from the area will be able to benefit from the schemes. He also informed that an official in the rank of principal secretary has been deputed in New Delhi especially to provide necessary contacts and information regarding the scheme.
He also informed on new state govt initiative under which a district level committee has been formed to spread awareness regarding central and state level flagship programmes.
He said the dependency on centre can be minimised at much larger scale if these flagship programmes those relevant with the state are fully utilized. Khandu lamented that due to lack of awareness on these schemes even among the state govt officials, the spread of such programmes had limited reach.
Speaking on progress of education in Arunachal, the Chief Minister said the education is still far from satisfactory and said the state govt in recent months have taken several steps for its improvement.
The Chief Minister further informed that to address unemployment and to fill critical shortage of manpower in various govt departments due to creation of newer districts and upgradation of schools and administrative headquarters, the state govt has created more than 5000 posts within a year. He said the recruitment to these posts will be purely on merit basis and one must forget for any back door entry.
The Chief Minister inaugurated the Ambedkar and Shashtri hostel for boys in lower campus, constructed under untied fund and SADA respectively. He appreciated the executing agency for executing the work perfectly and qualitatively under nominal funds.
The Chief Minister later visited the college administrative centre, classrooms and library in the upper campus. He promised to immediately sanction funds for construction of 3km 2-lane road to connect lower campus to upper campus.
He said that the College getting grade A from NAAC, Bangalore was a matter of pride not only for Pasighat for entire state. The college has also been conferred with 'College with potential for excellence' from UGC.
The Chief Minister said Pasighat has also made inroads in industrialization with establishment of a textile factory opened by former IAF pilot Mohonto Pangging. He informed that Panggging will be awarded for his contribution towards achieving self sustenance and contributing to the community in the next year statehood day celebration.
He said Pasighat's potential can be gauged from the enthusiasm shown by various private players who are keen to invest here. He said after Pasighat airport has been made operational, several private companies are vying to fly here. He promised that work for a civilian terminal Pasighat airfield will be expedited and instructed the DC Pasighat to immediately sort out local issues.
The Chief Minister appreciated the Adi community for its strong decision making system that has aided greatly in successful implementation of development projects. He said the people here have the right mindset that could qualify Pasighat to be listed under smart city mission. He informed that the foundation stone for the smart city will be laid in January next year and with that the development activities in the city will be boosted to a higher level.
The Chief Minister also lauded the contribution of Adi community towards the development of its society. He said the elders have nurtured well their youths who are today very much in tune with their local culture. He appreciated the zeal of Adi people to speak in their own local dialects.