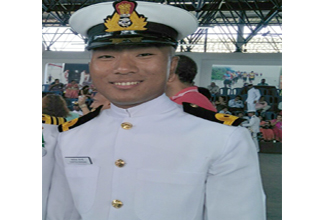 Staff Reporter
ITANAGAR, Nov 22: Chaphoa Wangno from Changlang district has become the first youth from Arunachal Pradesh to join the Indian Naval Armament Inspection Executive Branch as Sub-Lieutenant after graduating from the Indian Naval Academy at Payyanur district in Kerala on November 22, 2017.
The only youth from Arunachal in his batch, Wangno is one among the 324 officers of the 93rd batch of the Academy, who graduated in various courses.
Wangno will now undergo specialised training in weapons and armaments at INS Dronacharya (Gunnery School) of the Indian Navy at Cochin.
Son of Chingam Wangno and Ngoanya Wangno, the 23-year-old naval officer is a native of Rajanagar under Bordumsa circle.
He completed his high school from Government Higher Secondary School, Itanagar and cleared the APJEE in the year 2012. He graduated with top honours from the PSG College of Technology, Coimbatore in metallurgical engineering. He cleared the UPSC CDS for the navy and went on to join the Indian Naval Academy in June 25, 2017 for 22 weeks of Naval Orientation Course in weaponry and armaments.