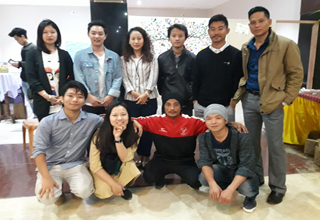 Staff Reporter
ITANAGAR, Dec 3: Curtains were called on the three-day 'Art Inside' group art exhibition, organised by the Arunachal Akademi of Fine Arts (AAFA) at Hotel Pybss here on the evening of December 3.
The final day saw a rush of people eager to get a glimpse of the artwork hung around the gallery before they were taken home by the artists.
Young children were also inspired by the live-painting of Ziro valley by Jene Hai, while sketch artist Matu Mara offered on-the-spot sketches for a small fee.
Other artists could be seen occupied explaining their art to the visitors through most of the day. By the end of the third evening, most of the artwork and merchandise had been sold off.
Speaking to this daily, AAFA President Taya Vivek expressed hope that such exhibitions would be continued in the future more frequently to nurture talent and provide a sustainable platform to artists across the state.
"If we had a gallery or hall for visual art, which could be doubled as a creative centre for performance art as well, it would help all the artists of the state immensely. It could be used to display their art and in turn help artists make a decent living doing what they love," he added.
The AAFA is keen on holding similar exhibitions in the near future.